Dotty
It's Ida's first day of school. She carries her new lunch box and a long, blue string with her special friend Dotty attached to it. A big, colorfully spotted pal with horns, Dotty just happens to be invisible. On that first day of school, Ida and Dotty find out there are plenty of other imaginary friends in attendance. But as the year passes and fewer and fewer imaginary friends come to class, Ida begins to wonder if Dotty is welcome at school anymore . . .
Perceptive and warmly funny, with charming art from exciting illustrator Julia Denos, Dotty is a celebration of the power of friendship and imagination.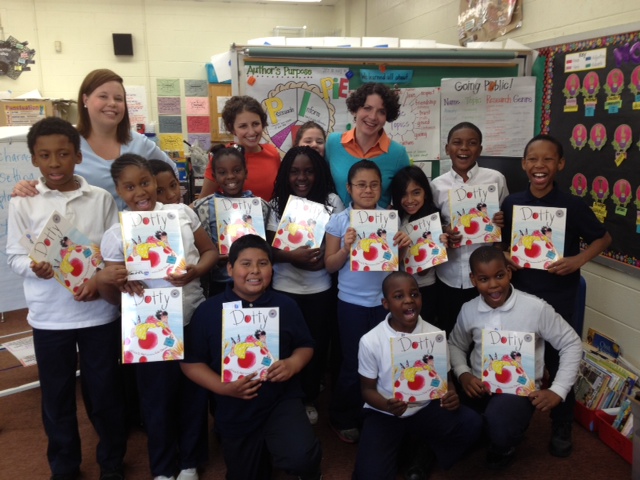 Reviews of Dotty
 
"Perfect! Perfect! Perfect!
- Esme Codell (planetesme.com)
"Dotty belongs in every elementary school library and on every back-to-school book list. Trust me."
Watch. Connect. Read. (Mr. Schu)
Full review, with video, here.

Kirkus Review
Ida is ready for a new year at school—complete with her new lunchbox and her imaginary friend, Dotty. Dotty is no subtle, live-in-the-pocket, garden-variety imaginary friend. She is a large, horned buddy with giant red polka dots that match Ida's festive T-shirt. Ms. Raymond, Ida's teacher, seems unperturbed by Dotty or any of the other extra friends who accompany her new pupils—from Keekoo, Katya's tiny braid-inhabiting friend, to Benny's sharp-toothed Spike. As the year goes by, some of these imaginary friends stop attending school, but not Dotty. When classmates make fun of Dotty, Ida's large, quiet friend shows her real power. Denos's whimsical ink illustrations show a confident, freckled girl with her own sense of style, sure of her place in the world whether she has Dotty in tow or not. She includes pleasing touches just right for elementary-school fashionistas: Ms. Raymond's scarf warns careful readers of a surprise at the end, and Ida's dotted clothing ties her to her friend forever. A charmer.
Booklist
The author of the super silly Chicken Butt! (2009) strikes a more introspective chord with this story about imaginary friends. Dotty, a large, horned, polka-dot creature, goes wherever Ida, a young girl, goes. On the first day of school, Dotty is one of several imaginary friends, but as the school year progresses, Ida thinks that Dotty is the only one left. Then she shares a reassuring chat with her teacher, who reveals that sometimes grown-ups need friendly support, too. The story sends a gentle message to children who aren't ready to let go of their imaginary friends, and as with many other picture books about classroom anxiety, including Miss Bindergarten Gets Ready for Kindergarten (1996) and First Day Jitters (2000), the shared experiences between teachers and their pupils will be a source of comfort for young children. Denos' colorful, stylish, mixed-media illustrations emphasize the sweetness, discovery, and common worries that come with leaving home and entering the wide world of school for the first time. An appealing story that merits repeat visits. — Kara Dean
School Library Journal
When Ida starts school, she brings along her invisible friend, as do many of her peers. Each one embodies some aspect of the child it has bonded with. In Ida's case, it's her anger. As winter flows into spring, Ida realizes that she is the only child still bringing her special friend to school. When Katya teases her about Dotty, Ida (Dotty) shoves her and gets into trouble. Staying after school, Ida discovers that her teacher also has an invisible friend she still brings to school. Denos's illustrations subtly show the characters and the seasons changing, and the pressures of growing up. The text is best suited for one-on-one reading as the pictures have hidden nuggets of information for those who look carefully. This enjoyable tale of maturing at one's own pace and on one's own terms will resonate with children and parents alike. - Catherine Callegari, Gay-Kimball Library, Troy, NH
Publishers Weekly
When Ida starts school in the fall, she's just one of many kids in Ms. Raymond's class who comes with an imaginary friend in tow. But by springtime, only Ida's Dotty--a huge, horned, spotted bovine creature--is left; everyone else has moved on. "You don't still HAVE her, do you?" asks Katya, flaunting her newfound maturity (this is the same Katya who at one time had a imaginary spiderlike creature named Keekoo that liked swinging on her braids). Perl's (Chicken Butt!) brisk, reportorial prose allows her to be sympathetic to her holdout heroine without over-romanticizing her or discounting the progress of her peers. Denos's (My Little Girl) paintings are an unadulterated delight, combining the naïf styling of scribbly children's drawings for the creatures and the easy, playful elegance of pattern book illustrations from the 1950s. But the ending, which reveals that the pretty, poised Ms. Raymond still has an imaginary friend of her own, may divide readers struggling with their own maturation. Does that make her cool--or a case of arrested development?